General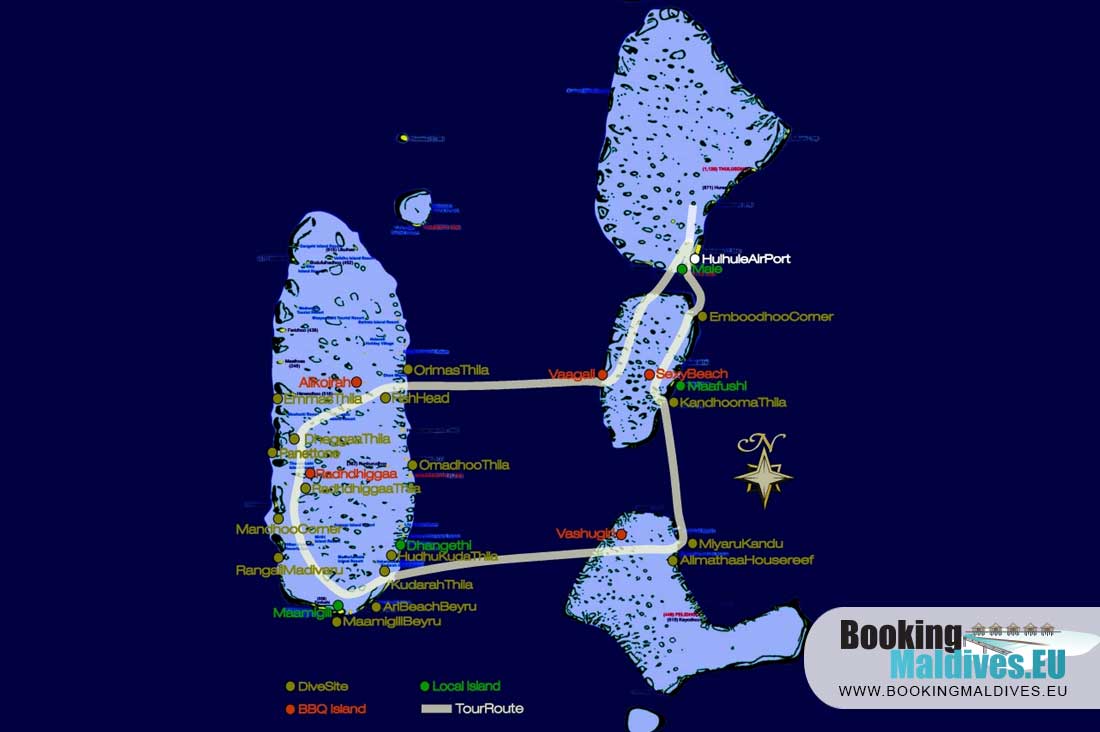 Cruising along the paradisiac Maldivian waters, Scubaspa Maldives features a 5-star luxurious accommodation on-board a cruise vessel. It specialises in water sports activities such as diving and offers utmost relaxation from the holistic spa treatments.
Fitted with wooden/carpet flooring, air-conditioned rooms are equipped with a personal safe, desk and a wardrobe. Rooms offer panoramic views of the ocean and come with a private bathroom which includes shower, bathrobes and free toiletries.
Scubaspa Maldives boasts 2 large sundecks, an outdoor hot tub, a salon/beauty shop and a common lounge area. Guests can enjoy activities such as fishing and snorkelling, while barbecue facilities are also available on request. Free Wi-Fi access is provided throughout the vessel.
The on-board restaurant serves delectable Continental cuisine and offers room service options. It also features 2 bars where guests can wind down their day with a glass of cocktail.
SOUTH TOUR
Sample South Tour dive itinerary. Subject to change dependent on weather or circumstances.
Saturday
Meeting at the Airport
Transfer to main vessel
Welcome Drink
Check-in
Crossing to South Male Atoll, anchoring near Gulhi
Crew Introduction and Safety Meeting
Sunday
Mornig dive at Kuda Giri Wreck
Moving towards Guraidhoo
Second dive at Kandhooma Thila Third Dive at Guraidhoo Corner
Local Island visit at Ghuraidoo Sunset Cocktail at Sun Deck Night crossing to Vaavu Atoll
Monday
Early morning dive at Miyaru Kandu Second Dive at Dhevana Kandu Night Dive at Alimathaa Housereef Night crossing to South Ari Atoll
Tuesday
Early dive at Kudarah Thila Whale Shark Watching/Dive at Maamigili Beyru Whale Shark Watching/Dive at Bodufinolhu Thila Night Fishing from the main boat
Wednesday
Early dive at Rangali Madivaru (Manta Point) Second dive at Radhdhhiggaa Thila Third Dive at Panettone BBQ at sandy Beach
Thursday
Crossing towards Moofushi Early diving at Moofushi Kandu Second dive at Emas Thila Crossing towards Alikoirah area Afternoon dive at Fish Head Sunset at Alikoirah Island Night crossing to South Male Atoll
Friday
First Dive at Vaagali Caves Second dive at Vaadhoo Caves Afternoon optional Male City Tour Dropping anchor near Kurumba/ Hulhumale
Saturday
Check-out
Morning Transfer to Hulhumale Airport after breakfast
Available departures
Additional availability text. You can use this field for disclaimer text or anything else you want your clients know before booking.
Maldives
A country of more than a thousand islands spread over 90,000 square kilometers of the Indian Ocean. Uniquely charming, endowed with a dreamlike beauty unknown elsewhere in the world; the Maldives welcomes you to enjoy its natural splendor and charm, and the hospitality of its people.
This is home to just about 350,000 islanders, yet welcomes twice as many to its shores every year. The Maldives has welcomed visitors with open arms for centuries. Some opted to stay, while some wrote about the mysteries and intricacies of life on these tiny islands. Unlike the adventurers and mariners of the past, today the Maldives is easily accessible from anywhere in the world. We wish you a pleasant stay in the Maldives.
An introduction
For most holidaymakers, great sunny days with deep blue skies, clear lagoons with pleasing shades of blue, moonlit nights, the soothing sound of little waves lapping the soft white sands, the ruffle of palms and powdery white beaches are the basic ingredients for the perfect tropical holiday. Few places offer these ingredi¬ents in greater abundance than the Maldives.
Although the Maldives is well known by travelers and holidaymakers today, its long history is not known to
most. The Maldives has gone through immense changes and has been affected by geopolitical changes and upheavals that have swept through the world through¬out the last two millennia.
Geography
Few countries have a landscape as remarkable as that of the Maldives. The Maldives is an archipelago of 1190 islands that straddle the equator, about 650 km south¬west of Sri Lanka. The islands are scattered in a chainlike formation extending 820 km from north to south and 130 km at its widest point.
The islands form ring-shaped formations or atolls, 26 in all some with a single island while others with over 200 islands in them. Huvadhoo Atoll in the south is the second largest atoll in the world.
Atoll formation
In 1842 Charles Darwin presented the world with the first acceptable theory of atoll formation. Darwin proclaimed that atolls were created when a volcanic land mass subsided slowly into the ocean, while coral build up and out around the plateau. However Darwin also wrote that the formation of Maldives was somewhat different from the islands of the Pacific and Atlantic that he had examined.
After a diving expedition in the Maldives in 1962, Hans Hass concluded that 'the inner structure of certain coral reefs in not compact but porous and unstable, hence extended reef platforms invariably sag in the centre". Reefs formed on the peaks of the submerged mountain range that extends through the centre of the Indian Ocean. The reefs eventually pierce the surface of the ocean beginning to form platforms. The centre of the platform collapses due to the scarcity of food and oxygen and due to the massaging effect of the tides.
However around the rim of the atoll where the coral has been built the hardest and highest, sand and debris accumulate, veg¬etation takes hold and islands begin to form.
Maldives Holiday
Most see the Maldives as a destination of dazzling tropical beauty that offers the perfect recipe for relaxation. The Maldives' holiday has changed and evolved since the first group of Italian tourists set foot in the country in 1972, a year in which we saw over a thousand tourists visiting the Maldives. Some may find it surprising to learn that many holidaymakers experience the Maldives differently.
Although most look to the Maldives as a destination for peace and quiet others see it as a place for fun filled, physically demanding activity; wind-surfing, catamaran sailing, parasail¬ing are offered in many of the resorts, while surfing is becoming a popular activity for many. Surfers can experience world-class virgin breaks throughout the archipelago.
Relaxation also has found new meaning in the spa resorts comparable only to the best in the world. The Maldives' spa resorts offer the perfect atmosphere that blends the age-old spa treatments with the tropical charm and closeness to elements that gives it the true holistic experience that spa treatments aspire to deliver.
For more adventurous souls there are nearly a hundred vessels of varying degrees of comfort and luxury. Be it for surfing, diving or simply relaxing, safaris offer a totally different holiday experience which many enjoy tremendously and come back repeatedly for more.
Today Maldives offers a variety of tourist resorts that cater to the tastes and moods of different people. There are 87 resorts in all with 11 new resorts slated for development in the next two years. The resorts vary from those that offer the true Robinson Crusoe experience in style to those that offer a more conven¬tional atmosphere which may be comfortable for some; those that are quiet and perfect for relaxation and those that offer a variety of exciting activities.
One common thread that has and still runs through the Maldives' tourism product irrespective of the resort or time has been its orientation towards diving. Diving in the Maldives is as exciting for many as it was over two decades ago. New areas of the country are being opened offering fresh dive sites to explore.
Read more
Cruise review scores and score breakdown
10
/ 10
Based on 1 reviews
Overall

10

Accommodation

10

Transport

10

Meals

10

Guide

9

Value for money

9

Entertainment

9

Program accuracy

9
Guest reviews
Radoslav Dimitrov
2015-02-22